Skip Hire
Large Skip Hire
Are you looking for large skip hire Surrey and elsewhere? Wondering whether or not large skip bins are going to be the best choice for your project? There's no need for concern. At Surrey Skips, we make sure to offer you a fantastic selection of skips, bins, bags and more. Our friendly and approachable team will always ensure to deliver the best quality bins and to take all your rubbish away at short notice. Rather than leaving your waste and debris to pile up, surely it makes sense to pay to take it all away?
Local large skips near me are always recommended if you are overseeing a big building job, or if you are struggling to contain household or commercial waste otherwise. Sometimes, it can be hard to get rubbish and waste up and moving. That's why we make sure to supply the service of a large skips that is fair, flexible, and always affordable.
Need Large Skip Hire For Rubbish Clearance?
Chances are, you're going to know pretty early on if you need a large skip near me. Large skips are fantastic assets to building sites, renovations and new build projects. If you have stacks of rubble and debris to get rid of, the last thing you are going to want to do is to keep it all on-site, festering and cluttering things up. With large skip hire services, you can be sure that a local team of professionals will deliver a sizeable bin to your site, load up your waste, and take it away as soon as you need us to. There's no hanging around, and there's never any need for compromise on your part.
Large skip prices near me don't have to be expensive. In fact, Surrey Skips offers a fair tariff based on local and national rates. What's more, we have a firm handle on what customers want and need from skips and bins near me. Our trusted large skip hire team will make sure you receive a top-quality bin, and if you need any help getting loaded up, we'll support you in that way, too. In fact, if you need to know more about local same day skip rental, or wait and load services, all you have to do is ask.
Hiring a Large Builders Skip Near Me
Arranging large skip size hire in my area just got a whole lot easier. Instead of having to call around several different companies and services, all you'll ever need to do is get in touch with our team one time via phone or online booking system. In fact, if you choose to book a large skip online with us, you can be sure that you have access to the best time slots and the best quality skips as soon as you need them.
Not sure whether or not you need large skip hire services? Maybe you could save yourself some money by going for a smaller option. Don't worry. By calling our team, we'll help you find a skip option which suits your practical needs as well as your budget. This way, you can be sure we're lining up a cost-effective plan of action. Unlike some other large skip hire companies near me, Surrey Skips is dedicated to finding you fantastic value.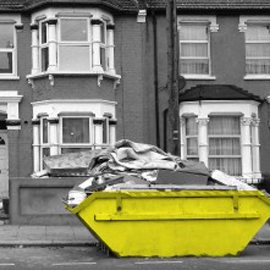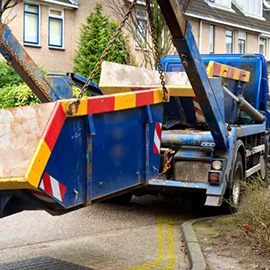 Call Now
Want to set up a large skip hire near me at short notice? It's time to get in touch with Surrey Skips. Either call our helpline for tailored advice and guidance or make sure to book through our online form. Booking a large skip size doesn't have to be a hassle – get in touch for a free quote as soon as you're ready!