Skip Hire
Domestic skip Hire
When you do a clear out of your home or have a renovation project, you will probably need a skip to get rid of the waste. We can offer you a fast, affordable, and reliable domestic skip hire service in Surrey, throughout London and the UK. Our company has served the industry for many years and is a trusted and professional skip hire service provider that is in high demand. Whether you need a mini skip or prefer a midi skip, our domestic skip hire for household waste is a service that can assist when you need to de-clutter your home. Our cheap domestic skip hire near me will help you avoid the inconvenience of having to handle waste on your own.
We are your best bet for a local solution to all your household waste. Most times, the trash from your home can be quite substantial and will not fit in your dustbin or the local waste centre. That is more so when you are remodelling your home, or getting your lawn tended to by a lawn service. Our domestic skip hire services are available at low-cost prices and will help you get rid of the enormous waste. We will help you in determining the best skip size for you. We have a large assortment of skips starting with the 2 yards skip to the sizeable 12-yard skip. We have all you need to help you take care of your domestic waste.
We Offer You Experience and Excellence
We have served in the domestic skip hire industry for many years, and during this time, we have gained immense knowledge and expertise. We are specialists and offer our customers high-quality services in the area of domestic waste management. When you need specialised domestic skip hire near me in Surrey, you can depend on Surrey Skips. We are a leading local skip hire company, and we are highly efficient and affordable to all our customers in Surrey and its environs. We also provide one of the best domestic skip hire UK services. We are a top supplier for domestic skips and other household waste management services nationwide.
We have a team of very friendly and highly experienced professional operators and one of the most highly advanced tools and equipment. We also have a very modern fleet of vehicles and highly trained operators that manage the fleet. When you need skip hire for household waste, you can depend on us to supply you with skips efficiently and cost-effectively. We will not allow you to get stranded and even when you have an emergency and need same day service and we will come to your rescue and provide you with a skip to promptly take care of your waste. We guarantee you that we will give you the best near me experience because we are local and we understand the people of Surrey and their domestic waste disposal needs well.
Affordable and Reliable Domestic Skip Hire Services
Whatever waste you need to dispose of, our domestic skips are available to you at fantastic prices. Whether you would like to hire a skip from us for a day or a week, we will ensure that all your needs get met affordably and reliably. Our domestic skip hire prices are never unreasonable and make sure that we can work with a flexible budget with you. We offer you specialist domestic skip hire services at very cheap prices with end-to-end solutions for the removal and disposal of your waste. When you need the best domestic skip hire near me UK, you can depend on us to offer you very reliable services.
If you don't have a driveway or space where our skips can get placed, you will likely require a permit to keep the skip on your street. You need not worry because we can make arrangements for the permit without charging any additional fees or commissions. We have a time-honoured reputation for providing our customers with specialist domestic skip hire services as well as specialist domestic skip bin hire services at very competitive prices. Our prices are incomparable in the market, and we always make sure to prioritise the requirements of our customers. We provide bins in numerous sizes and have a size that will adequately accommodate your needs.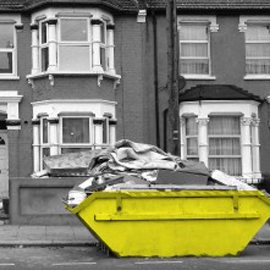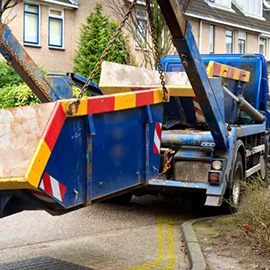 Get in Touch with Surrey Skips!
We have one of the most convenient domestic skip hire services in Surrey and the UK. We also have skips that are customised so that regardless of any size you need, we are always able to meet all your skip hire and bin requirements. We make sure that when we come to your residence, we leave your place with minimal mess and ensure that it is as clean as we found it. Our skip hire services will make sure you save time, money and effort and will help you minimise the risk of hazards.
We have a very simple online skip hire booking process where you provide your skip details and skip size. Our friendly team of experts with years of experience will help you choose the right skip size. Anytime you need an efficient and cost-effective domestic skip hire service, get in touch, and we will help you out. You can also call us on 0203 369 9570.