Skip Hire
Commercial Skip Hire
When you need to hire commercial skips, you have to ensure that the company you are hiring from is reliable. Business entities are likely to have lots of waste, and the best way to handle such waste is to find a company offering affordable commercial skip hire services. Surrey Skips provides very reliable and affordable services for businesses looking to hire commercial skips. We offer professional commercial skip hire services and all our personnel are trained and have been working in the industry for many years. Regardless of your requirements, we can supply you with any size of skip that is appropriate for all your commercial projects.
Affordable Commercial Skip Hire
Surrey skips have a skip hire service at very competitive rates. When you need skips that you can use for commercial waste disposal, you can depend on us for cheap skip hire. It is not just our prices that we are known for because we are also a very reliable and efficient supplier of skips. You can hire our skips for short or long term, and we also offer same day service skip hire. If you have an emergency, you need not worry because we are available to assist you and see to it that your needs get met. We have developed an outstanding reputation in Surrey and its environs and are trusted by many businesses that need skips or commercial skip bins. We offer very low-cost services for our customers in Surrey and throughout the UK.
Businesses need stability and regularity with their waste disposal. They also need a skip hire company that offers them convenience and prices that are budget-friendly. Surrey Skips is a top company in London and the UK. That is why you should never have to worry about our commercial skip hire prices. You need a service that is stable and temperate and is also reliable and honourable. That is the best way to minimize expenses and ensure your operations remain organized. Surrey Skips is your commercial skip hire near me, service provider. We are a very stable and dependable company, and we understand the local area well. We are one of the leading commercial waste skip hire companies in the UK, offering a very efficient and cost-effective service.
Bespoke Commercial Skip Hire Services
At Surrey Skips, we have a skip for you and can offer you bespoke solutions that will adequately meet your skip hire needs. We have various commercial skip sizes that are ideal for businesses. Regardless of your requirements, our tailored skip hire service can come up with a blueprint that is ideal for your commercial needs. If you have small or large operations, we can satisfy all your waste disposal needs. Our team of professionals can arrange for a specialized, high-quality service that fully caters to your commercial skip bin hire requirements. All this gets offered to you at extraordinarily competitive prices. While the removal of waste can be a messy affair, we assure you that we will ensure that your premises remain as clean as it was when we arrived. We desire to see to it that you are satisfied with the skip hire services that we offer to you.
We have invested in a very advanced fleet of loading vehicles that allow us to deliver skips to your business premises. We also have very modern tools and equipment and a team of qualified professionals to operate the vehicles and equipment. We will deliver the skip or bin at a location that you prefer, and will also ensure that they get collected at your convenience. Surrey Skips will handle all the details regarding the skip hire as well as any required paperwork. We take care of the inconveniences, so you never have to struggle with commercial bin hire, and the skip hiring process. We will also arrange for the permits if they are needed and will assist you so that you select a skip that is appropriate for your business.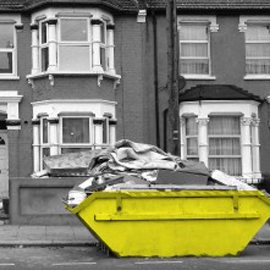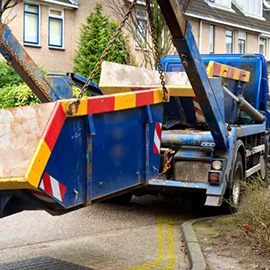 Call Us for Prompt and Reliable Services!
If you are looking for a prompt and reliable commercial skip hire services in Surrey, we are your best choice. We are a specialist company that is reliable and friendly, and we have every type of skips and bins on offer for our commercial customers. Our skip and bin hire services are incomparable. You can call us, and we assure you that we will send you a free no-obligation quote with no hidden charges. We are very transparent, and you can expect no additional fees from us. Once we have agreed with our clients, we will never go back on our word. We also offer you a straightforward online process for booking skips and bins. For the best skip hire and bin hire prices in Surrey, call 0203 369 9570.